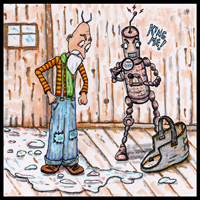 BUMBLE BEE'S citizens are in a panic! A Maniacal Marauding Snowman Monster
has been on the march menacing most of Bumble Bee by stealing everyone's
coal! It was TINKERIN' TOM and his sidekick, ROBOT, who were the first to
unravel this
MYSTERY!
When interviewed, many of BUMBLE BEE's citizens were concerned with the latest turn of events.

REVEREND HORACE MARS commented, "Mama Juju always has me in a quandary."

WANDERIN' TOM-KAT CARSON, Bumble Bee's world famous bluesman, was guarded in his comments. "Well, I'd be crazy to say anythin' to get on Mama Juju's bad side again. After all, she already ZAPPED me once!"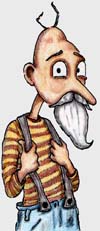 TINKERIN' TOM was a bit more forthright. "The woman's a menace! Remember what she done to ROBOT!?"