Local Prairie Wolf, Tahloot, the Coyote, gave us a peek into his peculiar personage, allowing the Gazette a gracious glimpse into how our favorite glib gad-about spends his day.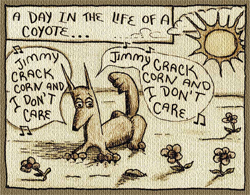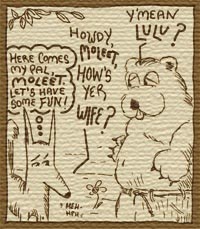 Knucklehead Nixes Needler's Knock!
Tahloot takes one on the chin when he chides his best chum Moleet, the Bear!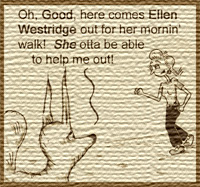 JOGGER JOSTLED BUT NOT JOLTED!
"Tahloot can't Jazz me with that Jive," Ellen Westridge, Bumble Bee's school marm, calmly told this reporter. "That Coyote's cracked if he thinks he can corral me with all his cockamamie claptrap! Hey, nobody messes with my
'My-Me Time'!"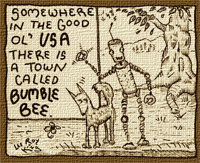 A PAW AND A CLAW WON'T GET YOU VERY FAW!
"It's a good thing that I stumbled onto those two guys," Emmet
Junias told the Gazette. "They'd probably still be out there
waitin' for a lift. Yuh see, there's a certain art to hitchin' that
a Coyote and a Robot may not be able to pull off!"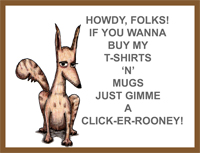 BUMBLE BEE GAZETTE FEATURES

GOSSIP
SCIENCE

RADIO WAVES

Radio Writer Chester Lolly Doesn't Clown Around!
THE SQUAWK BOX BRANCH
HEALTH
RELIGION
THE RAIN DRIPS
ON THE TOWN